There's no doubt that the right artificial hanging baskets can look the height of opulence. Whether you're a home owner wanting to add some brilliant permanent colour to your porch or a business looking to spruce up that front of house with something spectacular, there's now plenty to choose from.
Here's our quick guide to buying the best hanging basket for your property:
1. Choose quality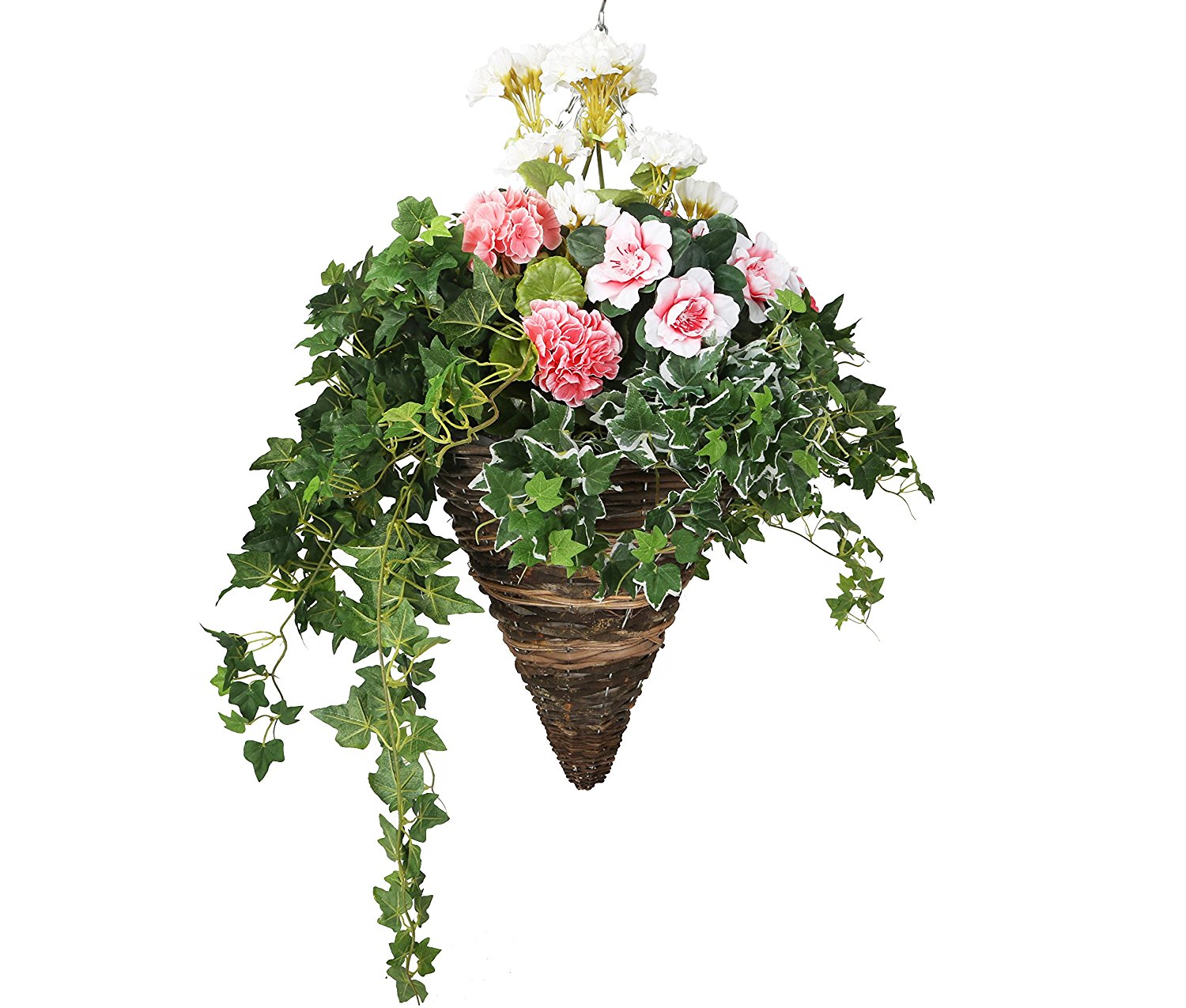 Above: Choosing quality pays off – look for the top brands such as Best Artificial or Closer to Nature.
Click here to see the Best Artificial range (topiary balls) ~ Click here to see the Closer to Nature range (artificial hanging baskets)
You can now get hanging baskets in all shapes and sizes and they're widely available. If you want that realistic look for your front of garden all year round, however, it's always best to go for quality. The latest manufacturing processes and the materials used means that you can now get artificial hanging baskets that look stunningly real.
2. Check for UV resistance
One key factor to consider is how UV resistant your hanging basket is. Exposure to the sun over long periods can cause artificial flowers to fade and that can mean your display goes from bright and brilliant to hopelessly dull without you even noticing in a relatively short space of time. Check that the artificial hanging baskets you choose are UV resistant so they stay bright for a long time, even in direct sunlight.
3. Combine flowers and foliage
Above: Artificial hanging basket by Closer to Nature, combining flowers and foliage. Starting at £49.99 – click here for more details.
The display is all important when it comes to hanging baskets and a good option is always to choose a balance between colourful flowers and foliage. Not only does this look pretty spectacular, it also looks more realistic. Try to avoid too many different types of plant in your display as, again, this can often look a little fake. In essence, keep it simple if you want a really natural effect.
4. Choose the right shape
Above: Flower balls look stunning, although they are clearly less realistic than other types of hanging basket. Click here to see the full range.
Hanging basket manufacturers are always looking to push the envelope when it comes to design and there's plenty out there to choose from. You can get traditional basin baskets or ones blooming out of narrow wicker cones. You can also get displays that have no basket at all and simply look like a magical circles of flowers. Much is going to depend on your personal preferences and where you want to hang it. The traditional bowl baskets, however, tend to look more realistic.
5. Pick your colours
Above: Limiting yourself to two main colours can be a very effective way of making the hanging basket look more realistic. Click here for more details of the above basket.
The next choice you're going to need to make is the colours. Again, this comes down to personal preference but if you want everything to look natural, temper your desire to go for too many brightly coloured flowers. A few different styles here and there work well in a small space. We recommend sticking to two main colours with variations in tone throughout the display.
6. Consider the occasion
While you might just want an artificial hanging basket for your front garden, you can also buy them for a number for different occasions. For example, if you're a business involved in organising weddings, having high quality baskets of flowers can not only look great, they can save a lot of valuable time and expense when setting  up a reception area. Other enthusiasts opt for different varieties for summer and winter, swapping the baskets over when the seasons begin to change.
7. Choose your basket
Finally, hanging baskets generally come in three different sizes – 12, 14 and 16 inches diameter – so make sure you choose one that matches the proportions of your house. Don't forget, you also have to take into account the height of your display and how that is going to look once you've set it up.