Artificial hanging baskets are an easy way to add colour and cheer to your home year round, without having to worry about maintenance. With summer fast approaching, now is a good time to ensure your garden will be full of pretty blooms, in time for the warmer weather. Here, you'll find the 10 most beautiful, affordable artificial hanging baskets that you can buy, all at reasonable prices and so realistic that you could be forgiven for forgetting and occasionally watering them.
1. Pansies and foliage
These sweet 12 inch wicker baskets are full of cheerful artificial yellow pansies with dark centres that look incredibly realistic. The pansies spill over the side of each basket and are set amongst light green foliage for a pretty cottage-like display. Buy them here.
2. Wild flowers
Who could resist the cottage charm of these stunning 'wild flower' artificial hanging baskets? A mix of gorgeous jewel-like colours and different flower types sit amongst lush green ivy make these baskets a real eye-catcher, and the woven twig container is perfect to set off the dazzling display. Buy them here.
3. All in a cone
These attractive cone shaped baskets are a twist on the regular hanging basket design and the choice of pretty blooms in reds, yellows, pinks, oranges and purples add breathtaking colour to the garden, whatever the weather. Buy them here.
4. The blues
Easily our favourite of this 'top 10' collection, these gorgeous baskets feature a stunning colour combination of blue and white flowers in different hues, spilling from the basket with trailing plants finishing the look.  Buy them here. 
5. Are we in Torquay…?
These stunning artificial hanging baskets have a real English Riviera feel to them – maybe it's because they are crammed with lush green foliage, or maybe it is the wide variety of different plants and shapes. Buy them here.
6. Pretty and delicate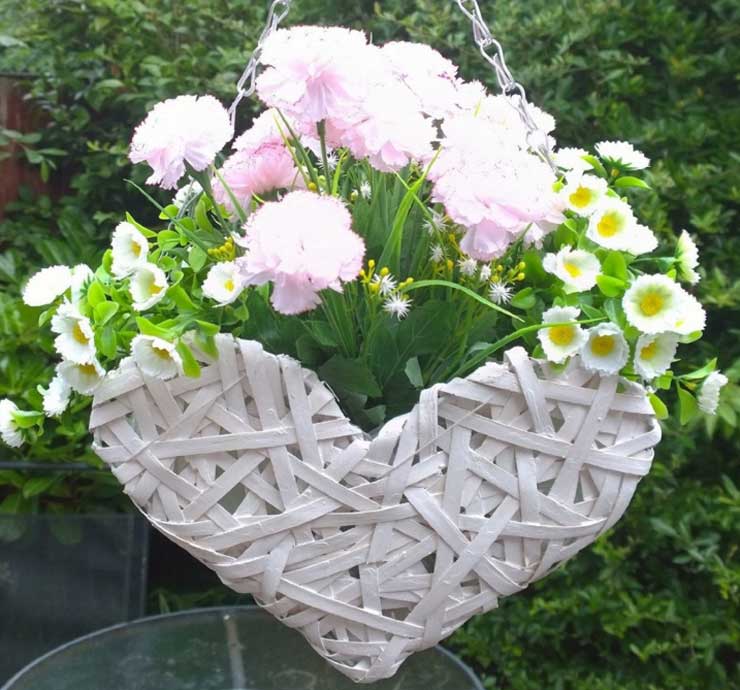 Not your typical design, these sweet artificial hanging baskets feature a gorgeous white wicker heart and pretty white and pink blooms set amongst the greenery. Buy them here.
7. The colours of summer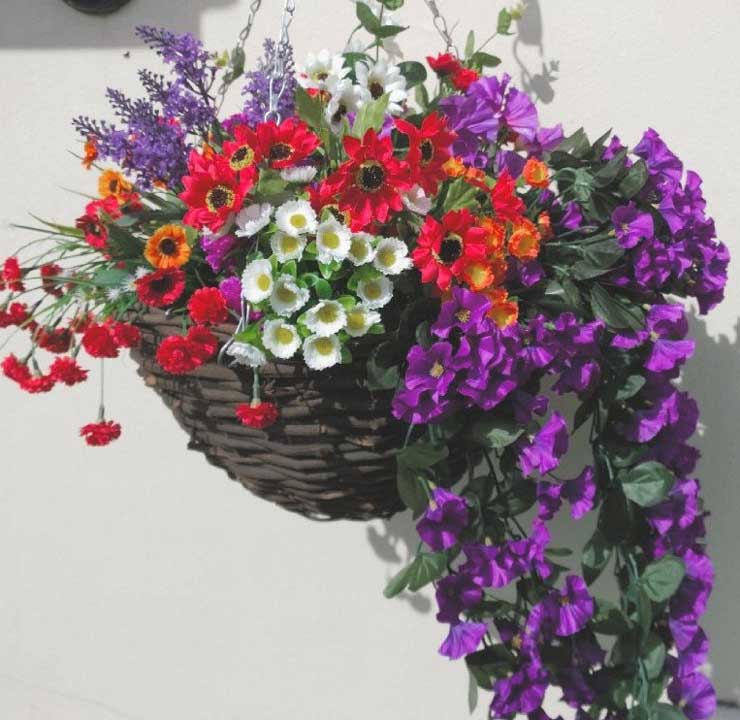 These colourful baskets will keep your neighbours wondering just how you do it. A wide range of different summery plants are packed together in a gorgeous combination for colour and cheer, whatever the time of year. Buy them here.
8. Solo beauty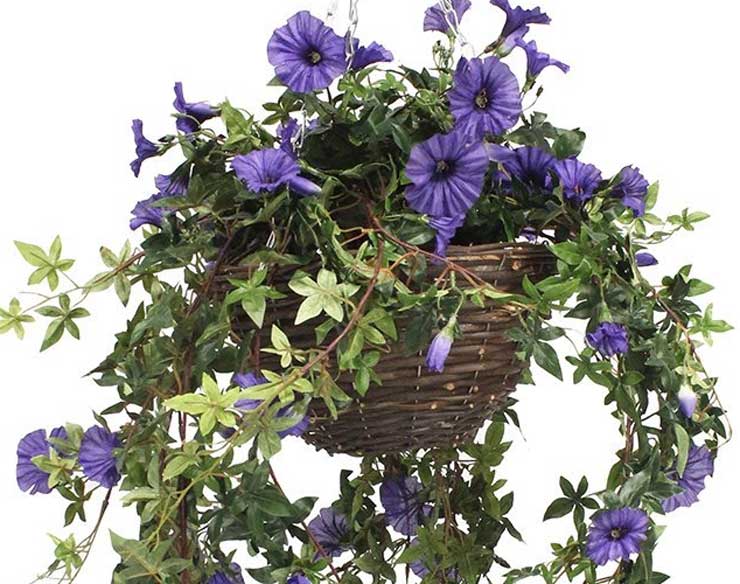 If simplicity is key in your garden, you'll love these pretty artificial hanging baskets which feature just one type of flower – morning glory. The pretty trumpet shaped flowers are climbers so there are lots of trailing stems that will stay green and fresh, with no watering or care! Buy them here.
9. Mum's delight
If you could choose the perfect bunch of flowers for your mum, these delightful hanging baskets would pretty much sum up what would be in there. Delicate summery flowers and pretty shades of pink and white with plenty of greenery make these charming baskets an absolute delight, and with artificial flowers your blooms will stay fresh and bright year round with no effort or maintenance. Buy them here.
10. Smart topiary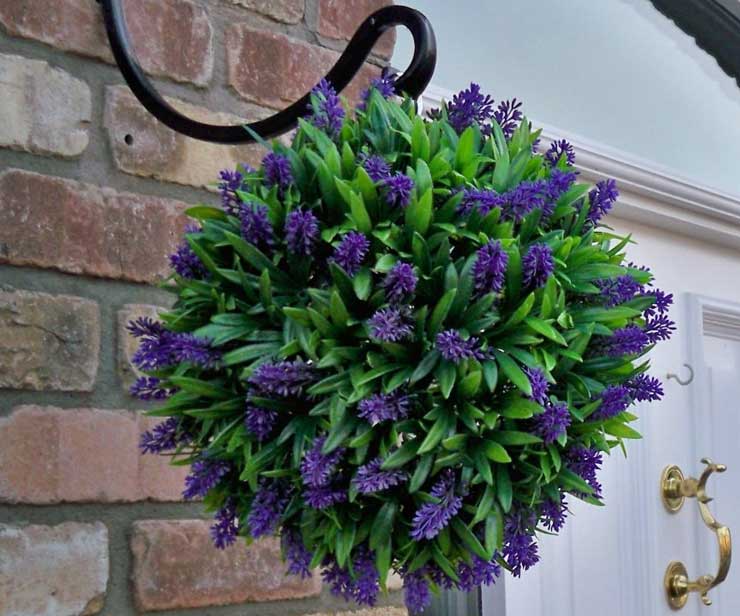 Baskets of pretty or cheerful blooms aren't everyone's thing – and these neat hanging topiary balls are a fantastic way to bring colour to the garden if you're not much of a 'flower person'. They come as a pair, each measuring 30cm across, and they are supplied with brackets and chains ready to hang. Buy them here.